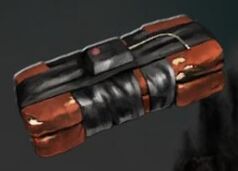 Triggered Explosive is a weapon/explosive that can be purchased from the black market for $30,000 and you can like all weapons upgrade it using weapon parts. They are sometimes given to you at the start of or during missions like the first mission "welcome to panau" . It is one of the few weapons that are capable of destroying satues (the others being Fragmentation Grenade and rocket launchers). It is Extremely effective at destroying goverment property such as fuel tanks and SAM sites, a good tatic to use is to throw the triggered explosive on Property and get to a fair distance so it is harder for panay's troops to kill you and it will give you more time to escape heat, then press the fire button and watch the fireworks. If thrown directly at military they will dive out of the way and cause you to attract heat.
Ad blocker interference detected!
Wikia is a free-to-use site that makes money from advertising. We have a modified experience for viewers using ad blockers

Wikia is not accessible if you've made further modifications. Remove the custom ad blocker rule(s) and the page will load as expected.